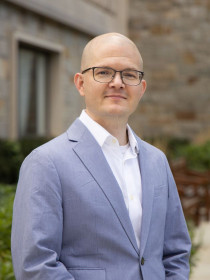 Andrew
K.
Jorgenson
Professor of Sociology and Professor of Environmental Studies, Boston College, Boston College
Connect with Andrew
About Andrew
Working in the areas of environmental sociology and global political economy, Andrew conducts research on the human dimensions of global and regional environmental change. His work appears in a range of disciplinary and interdisciplinary journals, including American Journal of Sociology, Social Forces, Nature Climate Change, and Environmental Research Letters. He is coauthor of Super Polluters: Tackling the World's Largest Sites of Climate-Disrupting Emissions (Columbia University Press). In 2020, he received the Fred Buttel Distinguished Contribution Award from the American Sociological Association's Section on Environmental Sociology.
Contributions
Don Grant

Wesley Longhofer
Publications
"
Economic Development and the Carbon Intensity of Human Well-Being
"
Nature Climate Change
4
(
2014
):
186-189
.
Examines how the effect of economic development on carbon intensity of human well-being has changed since 1970 for 106 countries in multiple regional samples throughout the world. Although future economic growth will probably improve human well-being generally, this research suggests that it will also cost an increasing amount of carbon emissions.
"
Are the Economy and the Environment Decoupling? A Comparative International Study, 1960-2005
" (with ).
American Journal of Sociology
118
, no.
1
(
July 2012
):
1-44
.
Compares ecological modernization theory, which posits that environmental degradation will decrease over time as economic development increases, with treadmill of production theory, which argues that both will increase apace. Statistical analyses of national-level carbon emissions provide mixed and unbalanced support for both theories.
"
The Sociology of Ecologically Unequal Exchange and Carbon Dioxide Emissions, 1960-2005
"
Social Science Research
41
, no.
2
(
2012
):
242-252
.
Engages the sociological theory of ecologically unequal exchange to assess the extent to which levels of per capita anthropogenic carbon dioxide emissions are a function of the "vertical flow" of exports to high-income nations. Finds that levels of such emissions are positively associated with the vertical flow of exports, and the relationship is much more pronounced (and increasingly so through time) for lower-income countries than for high-income countries.
"
Globalization, Foreign Investment Dependence, and Agriculture Production: A Cross-National Study of Pesticide and Fertilizer Use Intensity in Less-Developed Countries, 1990-2000
" (with ).
Social Forces
87
, no.
1
(
2008
):
529-560
.
Finds that pesticide and fertilizer use intensity in less-developed countries are both positively associated with foreign investment dependence in the agricultural sector, which contributes to a variety of human health and environmental problems.