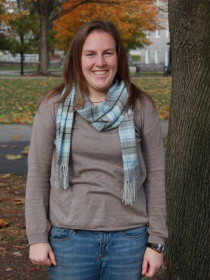 Anna
McGinn
Policy Manager, University of Maine
Connect with Anna
About Anna
McGinn works as part of the EESI team focused on federal policy issues. She organizes Congressional briefings, reviews and edits fact sheets and articles, and tracks Congressional efforts on climate, energy, and environment topics. She focuses on climate adaptation and resilience; international negotiations; federal, state, and local climate commitments; equity and environmental justice; and appropriations and budget. She holds dual master's degrees from the University of Maine in Climate and Quaternary Studies as well as Global Policy, and a bachelor's degree in Environmental Studies from Dickinson College in Pennsylvania.
Publications
"
Multi-level Governance of Climate Change Adaptation: A Case Study of Country-Wide Adaptation Projects in Samoa
" (with ), in
Managing Climate Change Adaptation in the Pacific Region
, edited by
Walter Leal Filho
(
Springer, 2020
),
231-253
.
Explores the extent to which interactions across governance levels and scales advance effective adaptation to climate change. Presents evidence from these major adaptation initiatives in Samoa to highlight where multi-level governance had been leveraged to enhance the governance of adaptation as well as areas of the projects where this has not occurred based on in-country interviews, site observations, and observations of the Adaptation Fund's terminal evaluation process.
"
Negotiating the Future of the Adaptation Fund: On the Politics of Defining and Defending Justice in the Post-Paris Agreement Period
" (with ).
Climate Policy
21
, no.
3
(
2020
):
383-395
.
Draws on narrative political analysis of negotiating texts and observations at meetings of the Conference of the Parties (COP), we argue that the Adaptation Fund negotiations became a particularly intense site for the contestation of justice-based norms in international climate policy. Explores how this unwavering support for the Adaptation Fund—and the claims to distributive and procedural justice it represents—could impact not only Fund governance and structure in the post-Paris Agreement period, but also the success of future adaptation efforts and the Paris Agreement itself.
"
On Qualitative Writing: Building an Interdisciplinary Community of Practice
" (with ).
The Maine Journal of Conservation and Sustainability
3
, no.
1
(
2019
):
1-15
.
Describes our shared experience of building a writing community of graduate students. Weaves individual stories into our shared narrative to describe how writing matters to us and how it has changed our experiences and relationship with research. Shows how narratives here have helped us re-encounter writing as a crucial research practice, and we hope that by interacting with these stories, readers will enrich their own sense of the role writing plays in their lives.