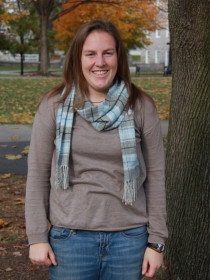 Anna
McGinn
Master's Candidate of Climate & Quaternary Studies and Global Policy, University of Maine
Connect with Anna
About Anna
McGinn's research focuses on climate change policy, especially at the international level. Overarching themes in McGinn's work include climate change adaptation, funding sources for adaptation projects, the intersections between climate change efforts and international development, and climate risk management.
Contributions
Publications
"
On Qualitative Writing: Building an Interdisciplinary Community of Practice
" (with ).
The Maine Journal of Conservation and Sustainability
3
, no.
1
(
2019
):
1-15
.
Describes our shared experience of building a writing community of graduate students. Weaves individual stories into our shared narrative to describe how writing matters to us and how it has changed our experiences and relationship with research. Shows how narratives here have helped us re-encounter writing as a crucial research practice, and we hope that by interacting with these stories, readers will enrich their own sense of the role writing plays in their lives.