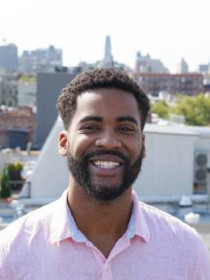 Evan
Auguste
PhD Candidate in Clinical Psychology, Fordham University
About Evan
Auguste's research focuses on racial health disparities, microaggressions, and trauma in young adults and justice-involved adolescents, and mental health advocacy in Haiti. Auguste serves on the student circle board of the Association of Black Psychologists and with the Association of Haitian Physicians Abroad. 
Contributions
In the News
Publications
"
Poly-Victimization and Justice-Involved Adolescents: What We Know
," (with ),
2018 Annual Conference of the American Psychology-Law Society
,
March 8, 2018
.
Assesses the effectiveness of the MAYSI-2, a popular screening tool for mental health, on assessing poly-victimization (multiple types of trauma exposures) on justice-involved adolescents. Finds that the screen was an effective screening tool for poly-victimization in this population.
"
Depression, Obstructive Sleep Apnea and Psychosocial Health
" (with ).
Sleep Medicine and Disorders: International Journal
1
, no.
3
(
2017
).
Shows that depression and Obstructive Sleep Apnea (OSA) are major associated comorbidities. Suggests that the quality of an individual's health can be improved by the early detection of the symptoms of overlapping OSA and depression.