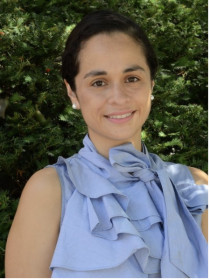 Chardee
A.
Galán
Assistant Professor of Clinical Psychology, University of Southern California
Connect with Chardee
About Chardee
Galán oversees the Dismantling Racial inEquities Around Mental Health (DREAM) lab. Her works takes a multipronged approach to reducing racial disparities in child and adolescent mental health by 1) promoting resilience at the individual-level through strengths-based approaches to mitigating the effects of racism-related stressors; and 2) dismantling structural drivers of racial inequities that persist in education and training programs, research institutions, and mental health care settings. Galán is a Mexican American woman and the daughter of immigrants.
Contributions
Cassandra Boness

Molly Bowdring

Julie Cristello

Juan Carlos Gonzalez

Nabila Jamal Orozco

Stefanie L. Sequeira
Publications
"
An Intersectional-Contextual Approach to Racial Trauma Exposure Risk and Coping Among Black Youth
" (with ).
Journal of Research on Adolescence
32
, no.
2
(
2022
):
583-595
.
Explores that Black youth experience racial discrimination at higher rates than other racial/ethnic groups in the United States. Identifies how racism can simultaneously serve as a risk factor for adverse childhood experience (ACE) exposure, a discrete type of ACE, and a post-ACE mental health risk factor among Black youth. Extends the model by incorporating an intersectional and ecodevelopmental lens that elucidates how gendered racism framed by historical trauma, as well as gender-based socialization experiences, may have implications for negative mental health outcomes among Black youth.