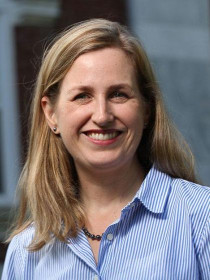 Helen
B.
Marrow
Associate Professor of Sociology; Visiting Researcher, Russell Sage Foundation, Tufts University
Connect with Helen
About Helen
Marrow is a sociologist of immigration, race and ethnicity, social class, health, and inequality and social policy. Her work explores Latin Americans' incorporation trajectories and racial and ethnic identities in the United States and Europe, the impact of immigration on social life and race relations in the rural American South, variation in public bureaucracies' approaches to unauthorized immigration (especially in education, law enforcement, and health care), the relationship between immigrant-host contact, threat, trust, and civic engagement, and Americans' emigration aspirations.
Publications
"
Welcoming, Trust, and Civic Engagement: Immigrant Integration in Metropolitan America
" (with ).
The ANNALS of the American Academy of Political and Social Science
690
, no.
1
(
2020
):
61-81
.
Uses survey data and in-depth interviews with Mexican and Indian immigrants in Atlanta and Philadelphia to examine how interactions between immigrants and the U.S.-born contribute to immigrant integration. Discusses when immigrants feel welcomed by U.S.-born Whites and Blacks, they report higher levels of trust in and greater interest in knowing Whites and Blacks, plus higher civic involvement.
"
Hope Turned Sour: Second-Generation Incorporation and Mobility in U.S. New Immigrant Destinations
"
Ethnic and Racial Studies
43
, no.
1
(
2020
):
99-118
.
Examines a stark turn toward more restrictionist enforcement and policy-making in "new immigrant destinations", especially in the U.S. South, after 2005. Overviews how this shift has negatively affected adult first-generation immigrants from Latin America over the last 15 years, and then considers the the implications for the Latino "second generation" – their children.
"
How Does Interacial Contact Among The U.S.- Born Shape White and Black Receptivity Toward Immigrants?
" (with ).
Du Bois Review: Social Science Research on Race
(
Forthcoming
).
Takes a relational lens to examine how contact between U.S.-born Blacks and Whites shapes both groups' attitudes toward immigrants. Draws on an original representative survey in Atlanta and Philadelphia, we show that when Whites have more frequent contact with Blacks, they are more receptive toward both Mexican and South Asian Indian immigrant newcomers
"
Health Care, Immigrants, and Minorities: Lessons from the Affordable Care Act in the U.S.
" (with ).
Journal of Ethnic and Migration Studies
43
, no.
12
(
2017
):
1965-1984
.
Explores, theoretically and empirically, through both smaller qualitative and larger national quantitative data sources, the implications of the Affordable Care Act for the health care of immigrant, ethno-racial minority, and low-income individuals during its early implementation (2010-2016). Provides relevant background on the Affordable Care Act, its political challenges to its implementation, and stratification by documentation status, income, and place of residence, plus overviews of the remaining articles in the volume.
"
Immigrant Perceptions of Native-Born Receptivity and the Shaping of American Identity
" (with ).
RSF: The Russell Sage Foundation Journal of the Social Sciences
4
, no.
5
(
forthcoming
):
47-80
.
Examines how Mexican and South Asian Indian immigrants' perceptions of being welcomed by U.S. born whites and blacks temper the relationship between the former's ascriptive characteristics—namely language and race and skin tone—and their identification as American. Shows how these linkages have important downstream consequences, with stronger perceptions of being welcomed increasing Indian immigrants' likelihood of naturalization and decreasing Mexican immigrants' desire to return to Mexico.
"
The Difference a Decade of Enforcement Makes: Hispanic Racial Incorporation and Changing Intergroup Relations in the American South's Black Belt
" in
Transatlantic Perspectives on New Immigrant Destinations
, edited by
Stephanie Chambers, Diana Evans, Anthony M. Messina, and Abigail Fisher Williamson
(
Temple University Press, 2017
),
102-120
.
Examines implications of the U.S. South's sharp negative turn in "context of reception" toward immigrants since 2005-06 for the state of black-Hispanic relations and theories of the southern color line(s). Argues there is emerging evidence of black-Hispanic coalition-building primarily at elite levels and in the formal institutional realms of southern politics and civil society, and less so in nonelite levels of workplaces, neighborhoods, and public spaces.
"
Out of Context: The Absence of Spatial Variation in U.S. Immigrants' Perceptions of Discrimination
" (with ).
Politics, Groups, and Identities
4
, no.
3
(
2016
):
363-92
.
Examines the hypothesis that immigrants' perceptions of discrimination vary across U.S. localities, as threatened responses by native-born residents may increase perceived discrimination among neighboring immigrants. Considers the alternative hypothesis that barriers to the expression and detection of discrimination de-couple native-born attitudes from immigrants' perceptions about their treatment.
New Destination Dreaming: Immigration, Race, and Legal Status in the Rural American South
(
Stanford University Press, 2011
).
Explores how the rural context impacts the American immigrant experience, how rapid Hispanic immigration influences southern race relations, and how institutions like schools and law enforcement agencies deal with unauthorized residents. It presents a cautiously optimistic view of Hispanic newcomers' opportunities for upward mobility in the rural South, while underscoring the threat of increasing anti-immigrant sentiment and restrictive policymaking.
The New Americans: A Guide to Immigration since 1965
(edited with ) (
Harvard University Press, 2007
).
Presents a comprehensive, interdisciplinary, and authoritative account of the most recent post-1965 surge of immigrants to the United States. Includes thematic essays that address such topics as immigration law and policy, refugees, unauthorized migrants, racial and ethnic identity, religion, and education, followed by comprehensive articles on immigration from the 31 most significant nations or regions of origin.