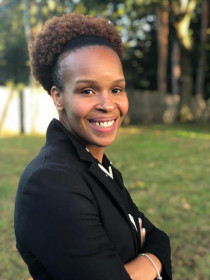 Tiffany
D.
Joseph
Associate Professor of Sociology, Northeastern University
Connect with Tiffany
About Tiffany
Dr. Joseph's research explores the micro-level consequences of public policy on individuals, immigrants' health and healthcare access, comparative frameworks of race and migration in the Americas, and the experiences of faculty of color and women in academia. She is the author of Race on the Move: Brazilian Migrants and the Global Reconstruction of Race (Stanford University Press 2015) and her research has been published in various peer-reviewed journals and mainstream media such as Newsweek and The Atlantic.
No Jargon Podcast
Publications
Race on the Move: U.S. Migration and Making America in Brazil
(
Stanford University Press, 2015
).
Highlights the experiences of Brazilian return migrants, who after navigating racial categories and discrimination in the U.S., must racially readapt to their native Brazil, a country with comparatively fluid racial categories and cordial interracial relations.
"
Still Left Out: Health Care Stratification under the Affordable Care Act
"
Journal of Ethnic and Migration Studies
43
, no.
12
(
2017
):
2089-2107
.
Shows how such stratification may worsen existing disparities in healthcare coverage and access among the U.S. population using existing survey research regarding national Affordable Care Act implementation and a qualitative study of AffordableCare Act implementation in Boston, Massachusetts.
"
Excluded and Frozen Out: Unauthorized Immigrants' (Non) Access to Care after Health Care and Immigration Reforms
," (with ),
2014 Annual Meeting of the American Sociological Association
,
July 2014
.
Draws on the sociological literature on boundaries to show that the Affordable Care Act (through the intersection of immigration and health policy) intentionally increases the "brightness" of unauthorized immigrants' exclusion in the U.S. healthcare system.
"
The MA and ACA Health Reforms: Implications for Marginalized Populations
,"
James House Retirement Symposium
,
May 2014
.
Outlines differences in the Massachusetts and Affordable Care Act Reforms and compares how marginalized populations (i.e. immigrants, minorities) in that state and across the country will not fully benefit from the policy due to existing disparities in healthcare, mistrust of the healthcare system, and difficulty enrolling for and using coverage.
"
Examining Barriers to Health Care for Immigrants in Boston under 'Universal' Coverage
,"
Sociology Workshop Series, University of Minnesota-Minneapolis
,
February 2014
.
Explores the healthcare barriers that remain to using health services for immigrants in Massachusetts after implementation of the 2006 health reform.