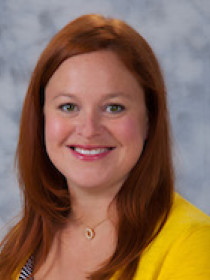 Jennie
Sweet-Cushman
Assistant Professor of Political Science and Assistant Director, Pennsylvania Center for Women and Politics, Chatham University
Connect with Jennie
About Jennie
Sweet-Cushman's research and teaching focus on issues of women's political representation. She is concerned about policy outcomes on women's issues, with direct focus on how fewer women candidates (than men) translates into fewer women in elective office representing women's best policy interests. As a research scholar at the Pennsylvania Center for Women and Politics, these interests are most keenly applied to Pennsylvania where women's underrepresentation is acute and the state is frequently noted for its lacking support of women's public policy needs. As such, she is heavily engaged in the execution of the state's Ready to Run™ campaign trainings for women and the NEW Leadership™ program for college women. Insights from Pennsylvania are quite frequently transferable to more generalizable observations in American politics.
Contributions
Publications
"
Where Does the Pipeline Get Leaky? The Progressive Ambition of School Board Members and Personal and Political Network Recruitment
" (
forthcoming
).
Discusses the policy impacts on citizens--particularly on women--of the Family Medical Leave Act (FMLA) in Pennsylvania, one of the 21 states where lawmakers have not expanded their coverage beyond that of federal law.
"
Improving Women's Ambition through Campaign Trainings: Finding the Right Message and Messenger
,"
Midwest Political Science Association
,
2017
.
Uses a pre-post test design to examine the effects of political campaign training for women on political ambition and traditional pre-cursors to political ambition.
"
FMLA in PA: Analysis of Family and Medical Leave Policy in the State
"
Commonwealth, A Journal of Political Science
17
, no.
1
(
2015
):
14
.
Details the impact of the federal Family Medical Leave Act (FMLA), as well as the complex web of additional protectiosn many states have. Offers a case study of the policy impact on citizens--particularly women, minorities, and the poor--in Pennsylvania, one of 21 states where lawmakers have not expanded their coverage beyond that of federal law.