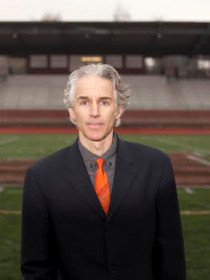 Jules
Boykoff
Professor of Politics and Government, Pacific University
About Jules
Boykoff is a political scientist whose research and writing focuses on political activism, media politics, and sport mega-events like the Olympic Games and World Cup. He is former professional soccer player who also represented the U.S. Olympic Soccer Team in international competition.
Contributions
No Jargon Podcast
Publications
Power Games: A Political History of the Olympics
(
Verso, 2016
).
Takes readers from the Olympic's nineteenth-century origins, through the event's flirtation with Fascism, and into the contemporary era of corporate control. Along the way, recounts vibrant alt-Olympic movements, such as the Workers' Games and Women's Games of the 1920s and 1930s as well as athlete-activists and political movements that stood up to challenge the Olympic machine.
Activism and the Olympics: Dissent at the Games in Vancouver and London
(
Rutgers University Press, 2014
).
Provides a critical overview of activist efforts to challenge the machinations of the Olympic Games before zeroing in on protesters at the Vancouver 2010 Winter Olympics and the 2012 Summer Games in London.
"
Celebration Capitalism and the Sochi 2014 Winter Olympics
"
Olympika: The International Journal of Olympic Studies
22
(
2013
):
39-70
.
Applies the theory of "celebration capitalism" to the 2014 Winter Olympics in Sochi Russia.