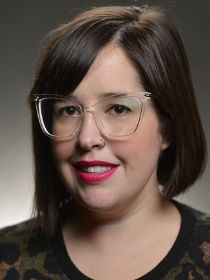 Katherine
Durante
Assistant Professor, Nevada State College
Connect with Katherine
About Katherine
Dr. Durante's research focuses on racial and ethnic inequality in the criminal justice system, with an emphasis on drugs and society, punishment and social control, and quantitative methods. Overarching themes in Dr. Durante's writings include examining how the war on drugs and other ostensibly race-neutral policies and practices contribute to disparate sentencing. Dr. Durante recently served as the Vice-Chair for the Law & Society Division of the Society for the Study of Social Problems. She is a correspondent for NV-CURE and is starting a term on the Citizens Review Board for LVMPD, reviewing citizen complaints against the police.
Contributions
Publications
"
Coparenting, Negative Educational Outcomes, and Familial Instability in Justice-involved Families
" (with ).
International Journal of Offender Therapy and Comparative Criminology
(
2021
).
Examines if a more cohesive coparenting relationship is associated with fewer adverse childhood experience for children with incarcerated fathers. Finds that children of parents who frequently argue about the child are more likely to have ever been suspended or expelled from school and are more likely to have ever had to live outside of the home.