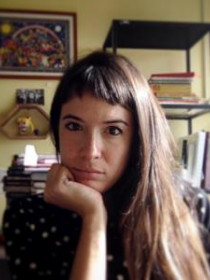 Lola
Loustaunau
PhD Candidate in Sociology, University of Oregon
Connect with Lola
About Lola
Loustaunau's research focuses on migrant workers, precarious and low-wage workers and labor organizing. Overarching themes in Loustaunau's writing include working conditions of precarious migrant workers, particularly women in food processing, processes of collective organization in low-wage work, scheduling and work-family balance, and emotions in the labor process. Loustaunau served as a research assistant in the Labor Education and Research Center at the University of Oregon between 2017-2019. Loustaunau also served as a member of the AFT-OR board for the same period. Loustaunau currently serves as volunteer in the Northwest Workers Justice Project assisting in wage theft and discrimination cases.
Contributions
Larissa Petrucci

Mary King

Lola Loustaunau
Larissa Petrucci

Lina Mary Caroline Stepick

Ellen Kaye Scott
Publications
"
Impossible Choices: How Workers Manage Unpredictable Scheduling Practices
" (with ).
Labor Studies Journal
(
2019
):
1-28
.
Draws on data from in-depth interviews conducted in Oregon in 2016, this study expands research on how workers navigate through "bad jobs" by exploring the ways in which they respond in an attempt to manage the individual impacts of precarious work arrangements. Finds that workers respond to unpredictable scheduling in four ways: they acquiesce, self-advocate, quit, or directly oppose employers. Highlights the "impossible choices" workers face as they negotiate prevalent, unpredictable work conditions, juggle work-life obligations, and struggle to remain employed.