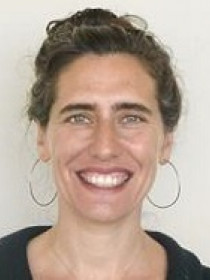 Lori
Freedman
Assistant Professor of Obstetrics, Gynecology & Reproductive Sciences; Co-Director, Research Consortium on Religious Healthcare Institutions; and Greenwall Faculty Scholar in Bioethics, University of California, San Francisco
Connect with Lori
About Lori
Freedman's research focuses on how reproductive health care is shaped by our social structure and medical culture. Particularly, her work looks at: 1) how religious institutions restrict access to reproductive healthcare, 2) how providers experience restrictions to providing reproductive health care, 3) how patients are affected by these restrictions. Through her research, she is engaged with multiple health and advocacy organizations including the ACLU, MergerWatch and the National Health Law Program. Her work with the ACLU has allowed her to serve as an expert witness in a trial in Alabama in 2014 in relation to an abortion law that would require all abortion providers in the state to hold medical privileges at the nearby hospital. She also teaches Qualitative Methods in the School of Public Health and Joint Medical Program at the University of California, Berkeley.
Contributions
Luciana Hebert

Molly Battistelli

Debra Stulberg
Publications
"
Religious Hospital Policies on Reproductive Care: What Do Patients Want to Know?
" (with ).
American Journal of Obstetrics & Gynecology
(
2017
).
Uses a nationally representative study of women of reproductive age to find that while 34.5% of women consider it important to know a hospital's religious affiliation when seeking care, 80.7% consider it important to know a hospital's religious restrictions on care. Additionally, a majority (two thirds) of women find religious restrictions on care during miscarriage management unacceptable.
"
Conflicts in Care for Obstetric Complications in Catholic Hospitals
" (with ).
American Journal of Bioethics Primary Research
4
, no.
4
(
2013
):
1-10
.
Qualitative research that follows up on a national survey that revealed that over half of obstetrician-gynecologists working in Catholic hospitals have conflicts with religious policies. Because the survey did not elucidate the nature of the conflicts, Freedman and Stulberg's qualitative research examines the nature of physician conflicts with religious policies governing ob-gyn care. Results pertaining to restrictions on the management of obstetric complications are reported here.
Willing and Unable: Doctors' Constraints in Abortion Care
(
Vanderbilt University Press, 2010
).
Explores the social world where abortion politics and medicine collide. Discusses why physicians rarely integrate abortion into their medical practice. Demonstrates that willing physicians are further encumbered by a variety of barriers within their practice environments. Draws from forty in-depth interviews and presents a challenge to a commonly held assumption that physicians decide whether or not to provide abortion based on personal ideology. Examines physician narratives and how their choices around learning, doing, and even having abortions themselves disrupt the pro-choice/pro-life moral and political binary.