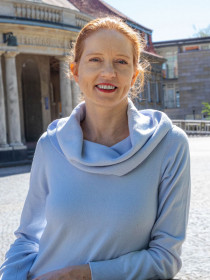 Merike
Blofield
Associate Professor of Political Science, University of Miami
Connect with Merike
About Merike
Publications
"
Care Work and the Struggles of Care Workers in Latin America
"
Current Sociology
(
forthcoming
).
Compares the working conditions and struggles of domestic workers and highlights the factors that explain different outcomes in terms of labour rights and protections across these countries.
"
Pluralization of Families
" in
International Panel on Social Progress: Rethinking Society for the 21st Century
(
Cambridge University Press, forthcoming
).
Asks how societies can support conditions for the twenty-first century that allow families to flourish, and at the same time promote individual agency, equality, and dignity. Provides a broad context for discussing families, then focuses on relations within families. The discussion is divided into four sections: relations between partners; adult–child relations; aging family members; and other adults. Finally, provides policy recommendations.
"
The Left Turn and Abortion Politics in Latin America
" (with ).
Social Politics: International Studies in Gender, State & Society
24
, no.
4
(
2017
):
481-510
.
Asks why some left governments in Latin America sought to liberalize access to abortion, while others sought to prohibit it. Shows that type of left matters, with the institutionalized lefts of countries like Chile and Uruguay being more likely to pursue liberalization while populist lefts in countries such as Nicaragua and Ecuador have prevented, or even reversed liberalization efforts.
"
The Reactive Left: Gender Equality and the Latin American Pink Tide
" (with ).
Social Politics: International Studies in Gender, State & Society
24
, no.
4
(
2017
):
345-369
.
Assesses the effects of Latin America's pink tide on gender equality in the region. Finds that left governments and left competition provide an opportunity for advancing gender equality. However, the dominant pattern during Latin America's pink tide was one of a reactive left.
"
Are Governments Catching Up? Work-Family Policy and Inequality in Latin America
," (with ),
Examines progress on work-family policies (parental leaves and care services) in Latin America since the turn of the millennium.
,
UN Progress of the World's Women
,
2015
.
Care Work and Class: Domestic Workers' Struggle for Equal Rights in Latin America
(
Penn State University Press, 2012
).
Examines how domestic workers' mobilization, strategic alliances, and political windows of opportunity, mostly linked to left-wing executive and legislative allies, can lead to improved rights even in a region as unequal as Latin America. Blofield also examines the conditions that lead to better enforcement of rights.