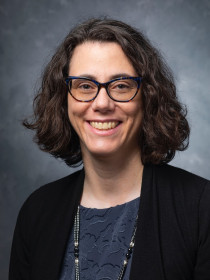 Sarah
Shannon
Assistant Professor of Sociology, University of Georgia
Connect with Sarah
About Sarah
Shannon's research investigates how social institutions like the criminal justice system affect social inequality. Her current research examines the relationships between General Assistance welfare programs, crime, and incarceration in the United States from 1960-2010. In other work, she investigates the effects of punishment on work, voting, and community health. She also writes and podcasts for The Society Pages, an online, multidisciplinary social science project designed to bring social scientific knowledge and information to broader public visibility and influence.
Contributions
Publications
"
State-Level Estimates of Felon Disenfranchisement in the United States, 2010
," (with ),
The Sentencing Project
,
July 31, 2012
.
Updates and expands the authors' previous work on the scope and distribution of felon disenfranchisement in the United States, with the goal of contextualizing and anticipating the potential effects of felon disenfranchisement on the November 2012 elections.
"
Imprisonment as a Political Institution in the United States
" (with ), in
The New Blackwell Companion to Political Sociology
, edited by
Kate Nash, Alan Scott, and Edwin Amenta
(
Blackwell Publishing, 2012
),
214-225
.
Presents a theoretical backdrop for imprisonment as a political and cultural force worldwide and discusses variation in imprisonment rates over space and time, selection into prison, and the effects of incarceration on human and social capital.
"
Growth in the U.S. Ex-Felon and Ex-Prisoner Population, 1948-2010
," (with ),
Population Association of America
,
March 31, 2011
.
Extends previous national estimates of the U.S. ex-felon population to 2010 and adds state-level estimates while exploring the consequences of incarceration on the families of ex-felons and their broader communities.
"
Embedded Sociologists
" (with ).
Contexts
10
, no.
2
(
2011
):
44-50
.
Examines interviews with "embedded sociologists" – sociology PhD holders with careers outside the professorate – to illustrate how the study and practice of sociology relates to the non-academic world.
"
A Basic Work Opportunity Reduces Crime - But Not Drug Use
," (with ),
American Sociological Association
,
July 31, 2010
.
Explains how and why the largest randomized job experiment in the nation's history affected substance use and crime among serious drug users, and finds evidence that income from a basic work opportunity clearly and significantly reduces predatory economic crime among former drug users.