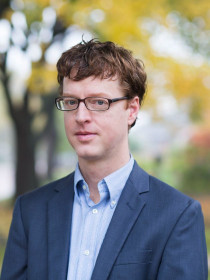 David
Doherty
Associate Professor of Political Science, Loyola University Chicago
Connect with David
About David
Doherty's research interests focus primarily on American Politics, with a focus on political behavior. He is interested in how the public wants elites to make political decisions. How do they respond when politicians reposition ("flip-flop") on policy matters? To whom do people think representatives should respond? Some of Miller's work also examines elite judgments, including party elites' perceptions regarding what candidates are likely to appeal to their base. Other recent work considers the forces that shape patterns of participation in the U.S. and in emerging democracies (particularly in Tunisia).
Contributions
Conor M. Dowling
Michael G. Miller
In the News
David Doherty
quoted by Will Hobson and Steven Rich,
"College Sports' Fastest-Rising Expense: Paying Coaches Not to Work"
Washington Post
,
December 11, 2015
.
Publications
"
Social Signals and Participation in the Tunisian Revolution
" (with ).
The Journal of Politics
(
forthcoming
).
Discusses how the Tunisian Revolution led to the establishment of a nascent democracy. However, our analysis finds little evidence that protesters were driven by a yearning for democracy. Instead, participation was closely tied to exposure to pro-participatory signals in the form of participation of others in one's neighborhood and explicit encouragement to join the protests.
"
Do Party Chairs Think Women and Minority Candidates Can Win? Evidence from a Conjoint Experiment
," (with ),
forthcoming
.
An experiment on a national sample of local party chairs shows that while they do not downgrade the electoral chances of women candidates, they do view black and Latina/o candidates more negatively, and this penalty cannot be easily explained by other factors such as local conditions.
"
How Policy and Procedure Shape Citizens' Evaluations of Senators
"
Legislative Studies Quarterly
40
(
2015
):
241-272
.
Reports findings from survey experiments that demonstrate that voters evaluate Senators who prioritize the will of their state over national preferences significantly more favorably than those who side with the broader public. Responses to Senators who choose to filibuster depend on whether the respondent agrees with their substantive position.
"
Are Financial or Moral Scandals Worse? It Depends
" (with ).
Political Science and Politics
44
, no.
4
(
2011
):
749-757
.
Exposure to information about fictitious scandals suggests that all else equal, voters view politicians embroiled in financial scandals more harshly than those caught up in sex scandals, and an abuse of power by the politician amplifies the effect of both.