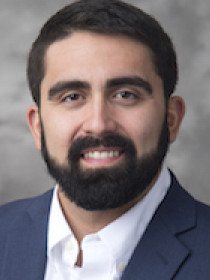 Fernando
Tormos
Postdoctoral Research Associate, University of Maryland — Baltimore County
Visiting Scholar, Johns Hopkins University
Connect with Fernando
About Fernando
Fernando received his PhD from the Department of Political Science at Purdue University. He studies social movements and social policy. His research centers on how social movements sustain mobilization and enhance their political influence. Tormos hopes to bridge gaps between scholarly policy analysis and on the ground policymaking, and to strengthen the Confluence SSN chapter by helping scholars disseminate their findings in clear, plain language. Originally from Puerto Rico, Tormos has done fieldwork in Latin America, the United States, and Europe. He will be based at the University of Missouri-St. Louis.
Contributions
Fernando Tormos

Gustavo García-López
No Jargon Podcast
Publications
"
Intersectional Solidarity
"
Politics, Groups, and Identities
5
, no.
4
(
2017
):
707-720
.
Focuses on the practical implications of intersectionality for social movements. Reviews prominent definitions of intersectionality, identifies a series of tenets, and presents a brief history of the notion of intersectionality. Reviews extant explanations of solidarity.
"
Black Women Lawmakers and Second-Wave Feminism: An Intersectional Analysis on Generational Cohorts within Southern State Legislatures from 1990 to 2014
" in
The Legacy of Second-Wave Feminism in American Politics
, edited by
Angie Maxwell and Todd Shields
(
Palgrave Macmillan, 2018
).
Argues that despite criticism of Second-Wave feminists for ignoring the intersection of race and gender, the movement, when viewed in conjunction with the African American Civil Rights Movement, proved influential for Black women who came of age during this period, launching a generation of female, African American state political leaders.