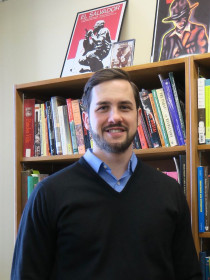 Kevin
A.
Young
Associate Professor of History, University of Massachusetts-Amherst
Connect with Kevin
About Kevin
Young's research focuses on U.S. politics, social movements, and foreign policy, as well as Latin American history and politics. Key themes in Young's writings include the making of government policy and the ways that social movements can shape that process.
Publications
"
Levers of Power: How the 1% Rules and What the 99% Can Do About It
" (with ) (
Verso, 2020
).
Highlights the "capital strike" as a key mechanism for corporate influence over politics and argues that social movements are most effective when they directly target capitalists.
"
Making the Revolution: Histories of the Latin American Left
" (
Cambridge Press, 2019
).
Shows that the Latin American Left has often built powerful coalitions across divides of race, ethnicity, gender, and geography, challenging conventional views of the Left as class-reductionist, authoritarian, and militaristic.
"
Blood of the Earth: Resource Nationalism, Revolution, and Empire in Bolivia
" (
University of Texas Press, 2017
).
Traces how resource nationalism has pitted ordinary Bolivians against conservative Bolivians against conservative Bolivian leaders, US officials, and foreign investors
"
A Neglected Mechanism of Social Movement Political Influence: The Role of Anticorporate and Anti-Institutional Protest in Changing Government Policy
" (with ).
Mobilization
19
, no.
3
(
2014
):
239-260
.
Argues that progressive social movements are more effective at influencing government policy when they target corporations and government institutions—the primary architects of policy—rather than just elected politicians.
"
The Good, the Bad, and the Benevolent Interventionist: U.S. Press and Intellectual Distortions of the Latin American Left
" in
Latin America's Radical Left: Challenges and Complexities of Political Power in the Twenty-First Century
, edited by
Steve Ellner
(
Rowman & Littlefield, 2014
),
249-269
.
Challenges the widespread depiction of recent left-of-center Latin American governments as comprising a "good left" and "bad left," arguing that the two alleged camps are in fact united on many fronts and that the so-called bad left countries actually outrank most others in respect for human rights and democracy.
"
Healthy, Wealthy, and Wise: How Corporate Power Shaped the Affordable Care Act
" (with ).
New Labor Forum
23
, no.
2
(
2014
):
30-40
.
Documents the process by which the healthcare industry successfully shaped "Obamacare" in accordance with its interests and proposes a strategy by which labor and community activists might force corporations outside the health insurance sector to support a single-payer healthcare model.
"
How 'Partnership' Weakens Solidarity: Colombian GM Workers and the Limits of UAW Internationalism
" (with ).
WorkingUSA
17
, no.
2
(
2014
):
239-260
.
Examines a recent U.S. solidarity movement with disabled General Motors workers in Colombia, arguing that the United Auto Workers leadership's behind-the-scenes opposition to the movement is one result of the union's belief in "partnership" with the company. The strategic lesson is that activists should take into account labor leaders' bargaining relationships when trying to win union support for a cause.
"
Purging the Forces of Darkness: The United States, Monetary Stabilization, and the Containment of the Bolivian Revolution
"
Diplomatic History
37
, no.
3
(
2013
):
509-537
.
Examines the economic means by which the Eisenhower administration attempted to neutralize the threat of the 1952 Bolivian Revolution, focusing on a 1956 U.S.-designed austerity plan that prefigured later neoliberal policies.
"
Can Prefigurative Politics Prevail? The Implications for Movement Strategy in John Holloway's Crack Capitalism
" (with ).
Journal of Classical Sociology
12
, no.
2
(
2012
):
220-239
.
Argues that social movements' practice of prefigurative politics should be accompanied by organization-building, selective engagement of the state, and confrontational action to undermine existing elite institutions.