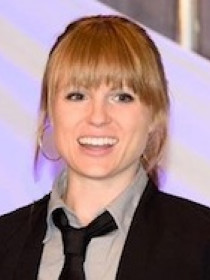 Kristi
Andrasik
PhD Student in Urban Policy, Cleveland State University
Connect with Kristi
About Kristi
Andrasik is a licensed independent social worker and urban studies doctoral student interested in issues of social equity, specifically at the intersection of lived experience, service delivery/implementation, philanthropy, and public policy. She has extensive practitioner experience in social services and nonprofit management and currently works with a wide variety of community organizations as a Program Officer with the Cleveland Foundation. Andrasik serves on several statewide policy and equity philanthropy committees and is an Ohio LGBTQ Funding Ambassador. Andrasik's work on equity issues has been recognized with awards from Philanthropy Ohio and the Human Rights Campaign.
Contributions
Publications
"
The Myths, Realties, and Ambivalence of Philanthropic Impact on Public Policy
"
Public Administration Review
(
forthcoming
).
Reviews the books The Self-Help Myth: How Philanthropy Fails to Alleviate Poverty, by Erica Kohl-Arenas, and Policy Patrons: Philanthropy, Education Reform, and the Politics of Influence, by Megan Tompkins-Stange
"
Who is a Nuisance? Criminal Activity Nuisance Ordinances in Ohio
" (with ).
Social Science Research Network
(
2017
).
Discusses Criminal Activity Nuisance Ordinances (CANOs), local laws found in thousands of cities throughout the country which penalize property owners if repeated incidents of criminal activity related to their property occur over a set period of time. Finds these laws often have consequences for survivors of domestic violence and others experiencing crisis.