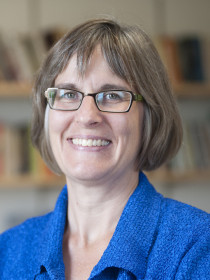 Maria
Krysan
Professor of Sociology, University of Illinois at Chicago
Connect with Maria
About Maria
Krysan's research focuses on racial residential segregation, racial attitudes, and survey research methods. Overarching themes in Krysan's writings include understanding the causes of racial residential segregation, understanding the dimensions of racial attitudes and how they have changed over time. Krysan is a faculty member at the Institute of Government and Public Affairs at the University of Illinois and through this work shares her research expertise with a variety of external audiences.
Contributions
Publications
"
Community Attraction and Avoidance in Chicago: What's Race Got To Do With It?
" (with ).
The ANNALS of the American Academy of Political and Social Science
660
, no.
261
(
2015
):
281
.
Demonstrates that race influences where people look for housing in the Chicago metropolitan area. Mentions that it has a particularly strong influence on the preferences of whites that cannot be explained by school quality or crime.
Cycle of Segregation: Social Processes and Residential Stratification
(with ) (
Russell Sage Foundation, 2017
).
Offers a new way to understand why racial residential segregation persists in many major cities in the United States. Uses original analyses of national-level surveys and in-depth interviews with residents of Chicago. Argues that past neighborhood experiences, social networks, daily activities, and the media —combined with discrimination, preferences, and economics— impact the mobility patterns of different racial groups in ways that have cemented segregation as a self-perpetuating cycle in the 21st century.
"
The Diversity of Integration in a Multi-Ethnic Metropolis: Exploring What Whites, African Americans, and Latinos Imagine
" (with ).
Du Bois Review: Social Science Research on Race
14
, no.
1
(
2017
):
35-71
.
Examines open- and closed-ended survey data to gauge attitudes toward racially integrated neighborhoods among white, African American, and Latino residents of the Chicago area. Reveals the diversity of attitudes toward integrated communities —depending on who is asked, and what kind of integration is considered— and argues that appreciating this diversity is critical in order to develop a more nuanced understanding of future patterns of residential segregation.
"
Realizing Racial and Ethnic Neighborhood Preferences? Exploring the Mismatches between What People Want, Where They Search, and Where They Live
" (with ).
Population Research and Policy Review
35
, no.
1
(
2016
):
101-126
.
Examines the relationship between preferences, housing search locations, and housing outcomes among a sample of white, black, and Latino residents in the Chicago metropolitan area. Investigates the extent to which there is a (mis)match between what people say they want in terms of the neighborhoods they search for housing in, and the racial composition of where they live. Draws attention to how the housing search process needs to be better-understood in order to understand how segregation is perpetuated.
"
From Color-Caste to Color Blind, Part I: Racial Attitudes in the U.S. during WWII, 1939-1944; Part II: Racial Attitudes during the Civil Rights and Black Power Eras, 1946-1975; Part III: Contemporary Era Racial Attitudes, 1976-2004
" in
The Oxford Handbook of African American Citizenship
, edited by
Henry Louis Gates, Claude Steele, Lawrence Bobo, Michael C. Dawson, Gerald Jaynes, Lisa Crooms-Robinson, and Linda Darling-Hammond
(
Oxford University Press, 2012
),
178-275
.
Uses survey and in-depth interview data to track changes over time in white and black racial attitudes from 1939 up until 2004.
"
Racial Blind Spots: Black-White-Latino Differences in Community Knowledge
" (with ).
Social Problems
56
, no.
4
(
2009
):
677-701
.
Explores racial/ethnic differences in community knowledge as a contributing mechanism through which residential segregation in U.S. cities is perpetuated. Uses data from a survey of whites, blacks, and Latinos living in Chicago to demonstrate how community knowledge is shaped by race —both of the resident and of the target community.
"
Does Race Matter in Neighborhood Preferences? Results from a Video Experiment
" (with ).
American Journal of Sociology
115
, no.
2
(
2009
):
527-559
.
Examines white and black racial residential preferences in Chicago and Detroit to determine if they are primarily driven by social class concern, or if race has an independent effect on these preferences. Uses an innovative experiment in which survey respondents watched a short video of an actual neighborhood that varied the race of the people who were the purported residents. Demonstrates that race operated, above and beyond the social class characteristics of a community to shape how desirable the respondents said the neighborhoods were.